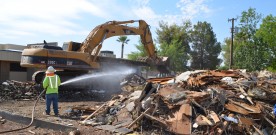 By Jeremy Cappello Lee
While many students applaud Tempe Prep's campus construction, few realize the degree to which they should be celebrating.
In a few months, students will cease fighting for elbow space while trying to add chiaroscuro to their paintings in Art class. No longer will they have to disturb a whole row of classmates simply to sharpen their pencils during Humane Letters discussions. And seniors can breathe easier when handling less-than-aromatic concoctions in Chemistry.
Already, the ongoing construction has transformed the layout of the campus. Two science labs, replacing existing facilities in the 500 Building, are nearing completion to the right of the Zelman Center. Both rooms – one for Chemistry and Biology, and the other for Earth and Life Science – will feature improved ventilation, and will share a storage space for chemicals and equipment.
Behind the science pod, the construction of five sturdy and spacious seminar rooms, built to withstand even the most intellectual discussions, is steadily progressing. Finally, a remodeled art and athletic office building will welcome budding impressionists and injured athletes alike by the end of the semester.
After months of careful planning, demolition began several weeks into summer holidays. On July 2, an imposing Caterpillar excavator tore through the locker courtyard and part of the 400 Building to initiate the wrecking. By mid-month, the construction crew, overseen by John Mariconda, president of Fortress General Contracting Inc., and Project Manager Dave Maza of Remodel Tempe, had cleared the rubble to begin work on the new buildings' foundations. The concrete frameworks of the science labs and the seminar rooms were already discernible by early August, and progress has remained brisk.
Regardless of the rapid pace of construction, financial constraints were a stumbling block, prompting architects and designers Brad Schultz, Zaha Tsikopoulos and Gene Kniaz to tweak their original plans. The construction budget currently is $630,000. "We had to go through a few design iterations to balance the budget and the overall design without compromising the outcome; it's an organic way of working," remarks Ms. Tsikopoulos.
Instead of building a separate art pod, the designers saved $30,000 by opting to salvage a section of the 400 Building to accommodate a more spacious room. Plans to install full-length windows in the two science labs were scrapped, reducing costs by another $5,000.
Once construction is completed, students will reap the rewards of studying in more specialized classrooms. "The new science labs will be fully equipped over time to create an environment more conducive to learning," says Headmaster Hugh Hallman, explaining that further improvements to better facilitate experiments will be made when more funding is available. In addition, the new art room will feature increased cabinet space, allowing for more efficient class set up.
Practically, this construction project "allows Tempe Prep to open a third section of sixth grade," adds Mr. Hallman, while removing two unnecessary classrooms. The more spacious plan also "eliminates the old locker courtyard," he says, "which was our largest source of untoward activity," in favor of a U-shaped, locker-lined yard which can accommodate school activities as well.
Certainly, wider floor plans and state of the art equipment make for a more convenient classroom experience. Yet it is ultimately for the quality of our education that Tempe Prep makes this investment. Greater elbow room is a bonus.
Share
About Author
(0) Readers Comments