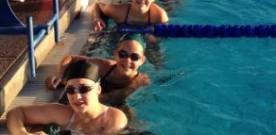 By Serena Abouchar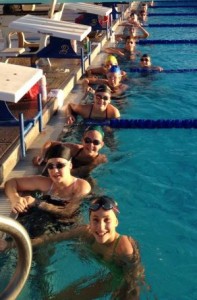 Yes, your beloved school does in fact have a swim team. No, they do not want to be addressed as the "Aqua Knights." As the first swim team TPA has seen with more than three people in the past couple of years, you could say we are already making a splash. (I did in fact try really hard to fit that pun into my story. Please be courteous enough to chuckle.)
Club swimmer and freshman, Abbie Alford, is looking forward to the rest of this first season. "A lot of kids are new and it's great! They come prepared to work every day, and it's awesome seeing people work as hard as you do. Our team may be small, but it's okay! We'll win a sweet victory soon."
The team of 14 athletes dedicates every morning to waking up early and swimming. At the ripe hour of 5:15, your dear royal blue and gold latex cap clad team is in the midst of a two-hour workout put together by their coach, Jennifer Stephens. So far, the work has paid off. At Phoenix Country Day School, Bronson Stephens, Kira Thomas, David Carmody and Daniel Knebelsberger all placed first, along with various other swimmers setting personal bests. Within a week we achieved further success at a Canyon State Academy meet, with victories in both individual races and relays.
Team captain Carmody also believes this season will be rewarding, but will come with difficulty. "Although this is the biggest swimming program there has been at TPA, our numbers don't really match up to the level of the other big school teams. At the same time we do have a ton of skillful swimmers who do get better every day. Every meet presents a challenge as we fight to make more of a name for ourselves, and I'm excited to see what we can accomplish these next couple of months."
With meets almost every Thursday or Saturday, we welcome the student body to come cheer on the rapidly improving team as they move further into the season. Go Knights!
Share
About Author
(0) Readers Comments