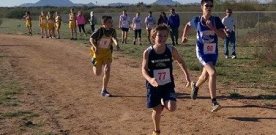 By Cole Klassen
Now, one might think, why would one play sports in winter" It's cold, dark – and cold. Hats off to these teams that not only played, but did exceptionally well.
Cross country: Oh running, the sport of champions or sore feet – not sure which. Anyway Coach Granville had this to say about his team: "It's been a very good year for the team. Many of the top runners from last year moved up to high school, but some very strong runners remained. There are about 20 kids on the team and there is a good range of experience levels from those working to run their first 6-minute mile, to those working to run under a 10-minute mile."
He said this about his practices: "Everyone works really hard and has a good time. We run sprints up A Mountain, and a typical practice will be 4-6 miles of running." And this for his view on the season: "While we probably will not win many meets this year, we have had a really strong season."
Softball: The softball team did very well this season. According to their coach Jason Massie, they "finished with six wins and only three losses. They made it into playoffs as the fourth best team in the league. The girls put in a lot of work and the results paid off." He also had this to say about the season: "I feel the season was a great success. I like to find a balance between fun and hard work; this group loved to do both. We had a relatively young team that was eager to learn. They had their share of bumps, bruises and even a broken nose." Yikes, sounds like these girls exhibited great toughness.
Coach Massie also said that his team "has progressed very well. We lost our first two games and won six out of seven games to finish the regular season." The girls went on to lose in the semi-finals of the playoffs.
Baseball: The ultimate winter sport. According to Coach Sweet, "considering the loss of experienced players, (the team) had a great season and performed with a fantastic level of play. We grew a lot in teamwork, focusing less on individual success and more on the team's success." He had this to say on the season: "It was a great success. We proved that we can compete with any team, on any level, and operate with a high level of skill and performance."The team lost in the first round of the playoffs.
Share
About Author
(0) Readers Comments