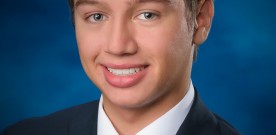 By Billie Nagy
As students wrap up the year applying for numerous scholarships and summer programs, one student, senior Enrique Favaro, shows just how far one can go with a little tenacity, wisdom, and determination. Enrique is one of 20 people in the entire state of Arizona to be awarded the prestigious Flinn Scholarship.
The scholarship, as the Flinn Foundation notes, "provides an unparalleled package for undergraduate study at an Arizona public university for 20 of Arizona's highest-achieving high school seniors each year. The merit-based scholarship  covers the cost of tuition, fees, room and board and at least two travel abroad experiences."
With the overall financial aid package valued at "more than $115,000," the scholarship provides a fantastic opportunity to anyone looking to graduate from college debt-free. When asked why he decided to apply, Enrique humbly responded that he simply "had nothing to lose." The senior, who  amazingly "found out I received the scholarship on my birthday, so it was a nice surprise," intends to double major in Accountancy and Computer Information Science at ASU's Tempe location, study abroad in China within the next few years, and later "spend the remainder of my time in graduate school at the W.P. Carey School of Accountancy."
For Enrique, "Easily the hardest part of the Flinn Scholarship process was the cuts, and the hardest cut was being a semifinalist," because, "the best of the best in Arizona apply, so if academics is all that you excel in, you'll be at a disadvantage as the Flinn Scholarship seems to be attracted to really well-rounded students."
The most challenging part of the application experience, according to Enrique, was "probably beginning the initial application and the essays," but he notes that "the interviews were personally my strong suit," as he humorously recalls, "because I was literally wearing a suit."
But in all sincerity, he describes that his "advantage was certainly in my involvement in Speech and Debate. The Flinn Foundation seems to really like people in Speech and Debate, as people in Speech and Debate composed 1 percent of the total applicants, yet made 10 percent of the Flinn Scholars this year, similar to last year."
For those of you looking into the prospect of the Flinn Scholarship, Enrique's best piece of advice is to utilize Speech and Debate to its fullest extent. "If you want to get the scholarship," he says, "Speech and Debate is easily the best way to get to the semi-finalist stage. While doing sports or involving yourself with music is beneficial, it won't propel you far unless you're exceptionally talented and unique, because almost all of these students applying are already doing those activities." He noted that "having a background in public speaking and communication will give you an edge in the interviews and make you a very admired candidate."
We wish Enrique the best of luck attending ASU this fall!
Share
About Author
(0) Readers Comments