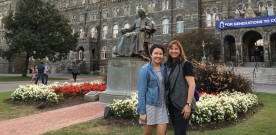 By Clara Moffitt
As Tempe Prep continues to see students grow throughout their years of sitting in two hours of Humane Letters and our school's curriculum that seems to be so polarly different from that of huge public schools, we grow to wonder: Does TPA actually prepare its students for success in college? The Tempe Prep Class of 2016 seems to think so.
Tempe Prep graduate of 2016 Marisa Putrasahan is now attending Georgetown University in Virginia with majors in philosophy and bioethics. Thanks to her TPA education, Marisa has been able to really put herself out there in her community. As only a freshman, she participates in the campus ministry, concert choir, and even as a tour guide. "Discussion sections are almost exactly like an everyday HL class. Having to come every day into Mr. Veenstra's class, ready to discuss everything from how amazing Alyosha is to really out-there philosophies from Boethius, prepared me to speak out even as a new, scared freshman in a discussion section with 5 juniors," she says. This summer, Marisa plans to keep on track by taking ASU classes to help with her Pre-Med goals.
Catherine Coriell also appreciates her experience in HL. "My smaller, discussion-based classes are a breeze," Catherine says. She attends Northern Arizona University on a full merit scholarship studying Biomedical Sciences. She is in the Women in STEM Club and is also the Assistant Director of Operations for the NAU football team. This summer, Catherine has an internship at Chandler Regional Medical Center with Dr. Kathryn Connors.
Jasmine Antony of the Class of 2016 attends Tufts University, focusing in Chemical Engineering. She spends lots of time in the Chemistry Lab at her school, and her advice to current Seniors is to be yourself at college and "go with the flow and take experiences as they come." To Jasmine, her TPA experience has been invaluable. She says, "I can think critically and am able to express ideas in the written word with thoughtfulness and precision."
Another Tempe Prep graduate, Chris Moffitt, thanks his Tempe Prep education daily as he attends Stanford University in Palo Alto, Calif. Chris is in the Structured Liberal Education (SLE) program. He says, "I am very grateful for TPA's curriculum. It makes my studies so much easier because I have read several of the books we discuss (we read 2-3 books a week), and I know how to make meaningful contributions in seminars." Chris has carried his love of human nature and great ideas that Tempe Prep instilled in him to college where he has started a double major in International Relations and Symbolic Systems, a combination of philosophy, linguistics, psychology and computer science. "My major focuses on how humans relate to computers. I am interested in Artificial Intelligence and Neural Networks (the technology behind things like self-driving cars and computer vision)," Chris explains. After a fun year performing with a student a capella group called Mixed Company that toured in Boston over Spring Break and the Stanford Chamber Chorale that will be touring in Thailand after final exams, Chris will be leaving the U.S. to serve as a missionary for two years in South Korea.
If you ever find yourself thinking that TPA is a lame school with old lockers and smelly bathrooms, remember the impact this school has had on so many people. Remember that those long nights of homework you thought would never end are what prepare you to meet the challenges of the human experience! As Aristotle once said, "Excellence is not an act, but a habit."
Share
About Author
(0) Readers Comments