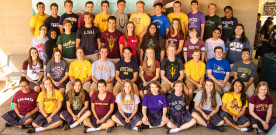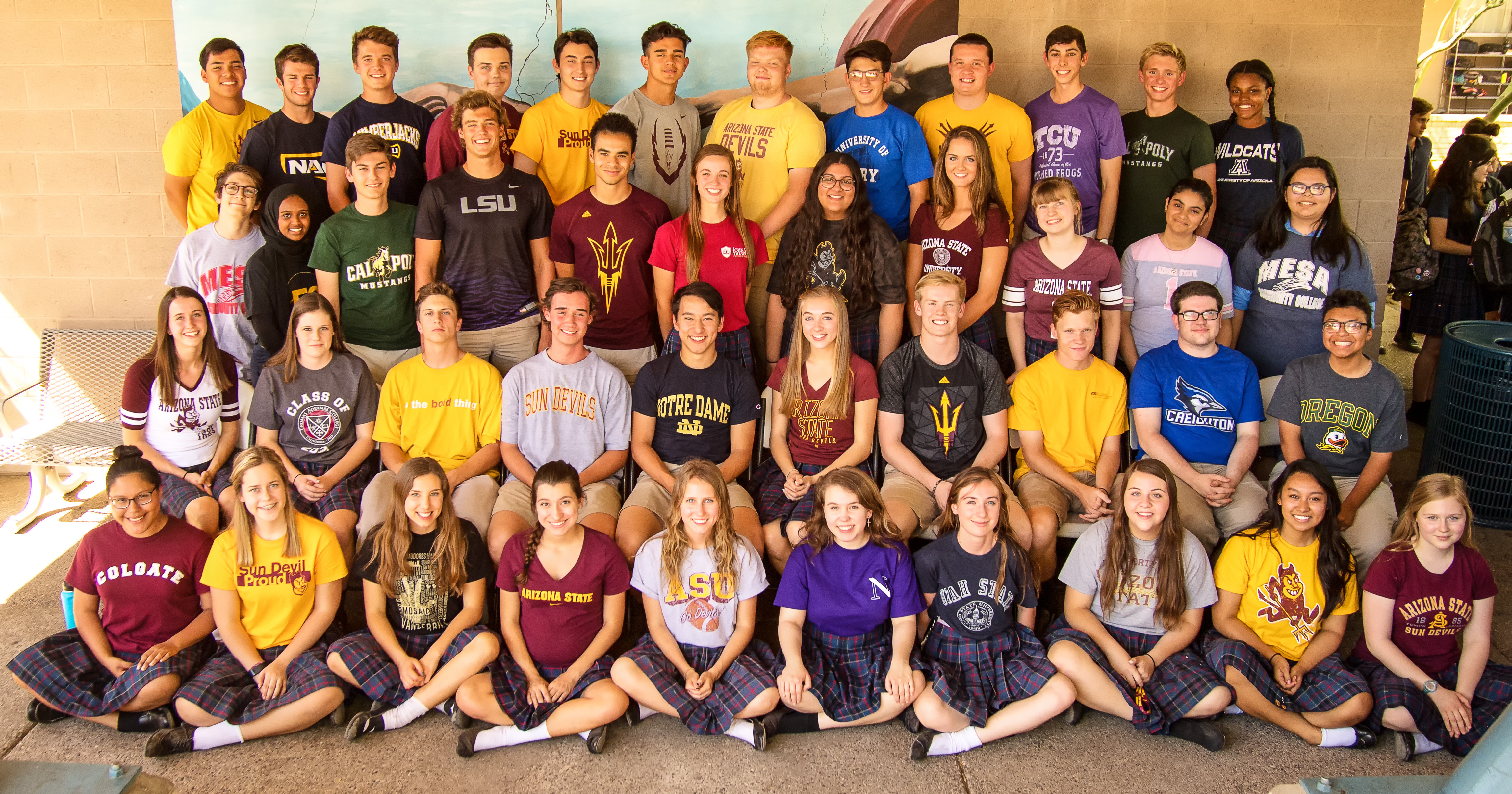 By Carter Sampson
I haven't been to school without the seniors for six years. They've left their mark on TPA and on everyone who has interacted with them. The goofy way they led the football team. Denzy and Cole in the play. Cinta dominating the boards in basketball. It's all part of the class of 2017. Their attitude toward life affected all of us at TPA. They were great examples and incredible people. We're all going to miss our seniors, although certain sophomores might miss them more than the rest of us. TPA won't be the same without them, but it's time the world got to benefit from their talents, not just us. Thank you Class of 2017, and good luck!
David Pivonka is another senior who had a profound impact on TPA. He was a leader on the football team and could best be described as a scrapper for the soccer team (he got a yellow card nearly every time he entered a game). David has two younger brothers at TPA, and both will need to do great things to escape his shadow. He will be attending ASU with several of his classmates and he says he is most excited about "the massive amount of different people I am going to meet there." However, he still has great memories of our school: "I am really going to miss the close friendships and brotherhood that I have at TPA. Nothing at ASU will compare." We're going to miss Dāv.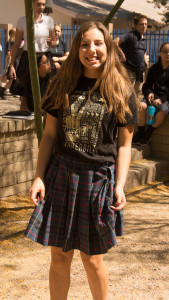 By Rachel Dinh
Another senior we're saying farewell to is Emily Hartzler. Throughout high school, Emily has been involved in NHS, Social Committee, volleyball, basketball, track, softball, yearbook, Spanish Club, and peer mediation. She was also a recipient of the Gold Medal, the highest award a Congressional Award member can get. Along with many other long projects, gold medal recipients must have 400 community service hours. Emily got 130 of those hours from the Girl Scout Good Award Project, which took around 6 months to complete.
With a resume like that, it's no surprise that she got accepted by Vanderbilt, a renowned school in Tennessee with a 10 percent acceptance rate. Emily credits a lot of her success to TPA's academics, which "have prepared me for my future endeavors." She says, "The community at TPA has had a great effect on me. I've met some great people here and I can't believe after six years I'm graduating."
One of her favorite memories is the senior trip to Washington DC. "I had an amazing time exploring D.C. with my friends. Seriously, I wish I could go back!" As for advice for underclassmen, she says, "Stick with it and you'll be happy you did. Don't stress about the senior thesis and certainly don't transfer schools 2nd semester of senior year (to avoid it)."
The best part about a stressful year is the end of the year. After months of college applications, involvement in extracurriculars, senior thesis, not to mention schoolwork every day, Emily plans to use her summer wisely. "This summer I am finally relaxing! I'm going to Europe for a month to stay with a friend I met last summer through Phoenix Sister Cities." She plans to start Vanderbilt in the fall. TPA can't wait to see where Emily's ambitions take her!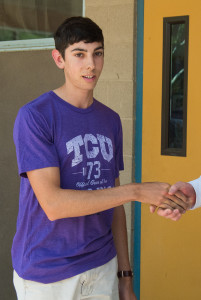 As the year draws to a close, TPA will say goodbye to many accomplished seniors, one of whom is James David. James recently received the Chancellor Scholarship, which is a full-ride to Texas Christian University and is given to less than 1 percent of applicants. Preparation for this scholarship took months, years even, if you count all of the activities and accomplishments that molded James into the perfect scholarship recipient.
One way he stood out was with his volunteer hours. TPA has a requirement of ten community service hours a year, but colleges look for students who go above and beyond what is expected. James has been a regular volunteer at St. Vincent de Paul, Feed My Starving Children, The First Tee of Phoenix, and an organization called FOCUS. He was also an avid member of Golf, Cantamus, National Honor Society, Spanish Club, and Environmental Club.  The unique education at TPA was a key player in shaping his future. He describes his experience at TPA: "TPA has allowed me to appreciate the value of a liberal education. It has made me more inquisitive and has prepared me to be a lifelong learner."
James plans to pursue a career in neuroscience. "Neuroscience interests me because it is an interdisciplinary course that combines biology, chemistry, physics, and psychology. It's a field that offers many paths to take, whether it be clinical medicine or in the research of neurological phenomena such as drug addiction, learning disabilities, and disease." In fact, one of the reasons he chose TCU was its undergraduate neuroscience program, which allows him to do undergrad research with professors and partake in campus and service events. Alongside that, James chose TCU because of its combination of "prestige of a smaller, private institution with the spirit and energy of a bigger school" and because of its beautiful campus in Fort Worth, Texas.
Six years of attending TPA is probably enough time to accumulate some pointers. Of course there are the obvious ones, such as asking questions in class (because the only dumb questions are the ones that aren't asked) or not writing an essay until the night before it is due (advice that many high schoolers seem to forget). James has some different words of advice. He says, "My advice to TPA students is to take full advantage of the teachers we have here. Most of them are overqualified for their job and could be teaching at the college level. Since the classes here are so small, you really get the chance to pick their brains."
James David has certainly left an impact on TPA with his dedication to extracurriculars and worth ethic. His love of learning will definitely take him far. We wish him luck in the path that lies before him!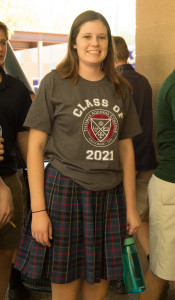 By Katherine Camberg
Grace Zwemke has chosen Thomas Aquinas College as the school she will be attending next year. Thomas Aquinas College is a small liberal arts college in California and there are a lot of TPA alums who go there. She is very excited to be living close to the beach. She is also excited to be part of the community and to be attending the same college as her older brothers.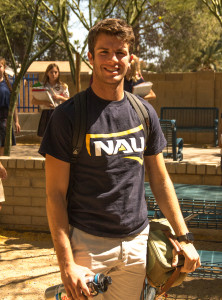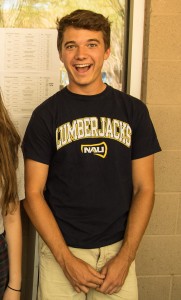 Jake Cryder and Jacob Massie will both be attending Northern Arizona University next year. Jake Cryder will be studying chemical engineering and Jacob Massie will be studying environmental engineering. They are both excited to be surrounded by the beautiful outdoors and to have the opportunity to go on outdoor adventures whenever they want.
Share
About Author
(0) Readers Comments