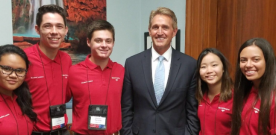 By Katherine Camberg
Are you interested in getting a paid internship, learning about politics and non-profits, and gaining financial literacy? Senior Aimee Cheng had the opportunity to do all this through the Bank of America student leaders program. Aimee participated in this program this past summer and said it was a truly eye-opening experience.
Each year five juniors and seniors from the Phoenix area are selected to participate in this program. They all received a seven-week paid internship and were given the option to keep their jobs at the end of the summer. Aimee got an internship at the Mesa Boys and Girls Club. At first, she was unsure about working with kids, but she came out of the program loving her job, and she continues to work there.
The program also includes a free trip to Washington D.C. for a week during the middle of the summer. On the trip, Aimee had the opportunity to meet with Arizona's senators and discuss political issues, visit monuments, hear different speakers, and watch a pre-screening of a new TV series. She also got to meet other students from all across the country participating in the program. During the trip, she made some great new friends with other like-minded students from across America.
This program is available for juniors and seniors, and the application is due in the spring. Aimee says she highly recommends the program because, "It really opened my eyes to how much more financial literacy among young people is needed. The internship I received was also tons of fun, and I was able to make over $2,000 this summer from it!"
The program also inspired her to start the Investment Club at TPA to promote financial literacy among high school students.
Overall, for anyone interested in learning more about economics, the Bank of America student leaders program is a great program to check out.
Share
About Author
(0) Readers Comments