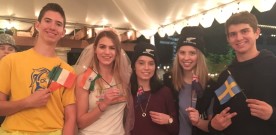 By Clara Moffitt
How many people can say they have a sibling from a different country? Over the summer, five Tempe Prep seniors had the opportunity to not only meet a new sibling, but explore another country, lifestyle, and culture.
Every year Tempe Sister Cities sends around 32 Tempe high school juniors as delegates to cities all around the world.
This life changing experience allows the selected delegates to travel to a foreign country and be paired with a host family and then take their host sibling back to America and they get the opportunity to live here!
Caden VanDahm spent the summer exploring the culture of Carlow, Ireland. While there, he met his host family who were "kind and hospitable… and super relaxed. I never felt uncomfortable or out of place." He also met Finnbar Kavanagh, his "Irish brother." "After spending every second of my summer with Finbar for 10 weeks, we became such amazing friends that I have no doubt we will be visiting each other for years to come." Caden says, "we also [still] stay in touch every day."
Every TSC delegate would agree that there were too many amazing experiences to count. One that stuck out to Caden is when he went to Skellig Michael Island, Luke Skywalker's island in Star Wars: The Force Awakens. He says, "We climbed up these slippery stone stairs to a 1000-year-old monastery on top of this little secluded island, and I've never seen anything like it."
Another TPA representative, Gabby Urias, spent her summer investigating the culture of Lower Hutt, New Zealand. Gabby enjoyed bungee jumping, watching rugby, seeing the filming site for The Hobbit, and of course driving on the left side of the road. She was able to participate in many Maori cultural events.
"Every day we learned something new of the Maori culture, including some songs. I think that was so cool to see and definitely made me want to continue learning about our native cultures and appreciating them even more," Gabby reflects. With her "sister" Ellarose, Gabby met her host family of five. "My host family was super fun and they tried to make me a part of their family!"
Also privileged to go to New Zealand was Makenna Colton. About her new sister, Lauren Hutley, Makenna says, "[we] are pretty much the same person! We are both chill people and like to go with the flow, but at the same time adventure seeking. We care very much about school and family." She says the family was extremely welcoming and kind to her.
Similar to Gabby, Makenna found bungee jumping crazy, but still awesome! New Zealand's culture has many contrasts to that of America; their population is a mere 4.5 million, they do not have the right to protest, and can only choose among five colleges to attend.
Carter Sampson spent six weeks of his summer in Sweden where he immersed himself in their culture. He says, "I cannot remember meeting a single Swede who wasn't nice. They were all so kind, even to an American who didn't speak their language." Among these amiable Swedes was Carter's second family. Carter says that having an international sibling is "like having a best friend who was always around." In this case, Carter's best friend's name was Anders.
"Anders never ran out of energy, which was tough on me as a lover of sleep," he says. As far as the rest of the family, Carter reports that they just sent him a "happy birthday video that shows how close you get to the people you live with for six weeks."
Delegate Katherine Camberg had a unique experience with the opportunity to have two siblings. Sister Cities sent her to India to spend the summer with Esnani and her family. "My host family was so sweet and always did their best to make me feel at home. They were always giving me tons of food!" Kat says.
In addition to this family, Kat also had a sister named Fatouma from Timbuktu, an ancient city in Mali, who had the opportunity to visit the states and stay with Kat's family. Fatouma "did not speak English but by the end of the trip she had learned a good amount of English and it was so exciting to watch her grow throughout the summer," explains Kat.
In America, her sisters got to experience our culture through the TSC prom as well as trips to places such as the Grand Canyon and Disneyland. The Hindu culture was new to Kat, such as removing shoes before entering a house, and new cultural celebrations such as weddings. She even got to see traditional types of entertainment in a recreated ancient village. Kat says, "It was amazing to find a community of international kids in Tempe, and my friends from Sister Cities are some of my best friends now!"
This "summer of a lifetime" let five TPA seniors step out of our world and into the unknown. Through meeting new people and seeing new places, they became more internationally minded and culturally aware. Makenna says, "There is so much more out there and it is so important to take the time to understand different cultures and points of view." Through "creating amazing friendships and memories," Caden learned that "cultures are different, but people are people, and you can find a friend anywhere you go."
Share
About Author
(0) Readers Comments