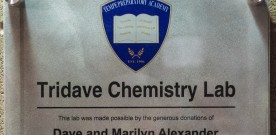 By Jasmyn Genchev
What's the biggest improvement to our campus since the construction of the 400 building in 2012? The chemistry and biology labs of course! And it's all thanks to the many gracious donations and hours from several individuals and organizations who made this great accomplishment possible.
First off, the chemistry lab, which would never have been completed without the generous donations from Dave and Marilyn Alexander. David Alexander isn't one to let his passions slip through the cracks of life. Whether it's Boy Scouting, card magic, or business management Mr. Alexander has done it all. However, one of his most amazing accomplishments is his success in the sport of triathlon. These are rigorous swim-bike-run competitions that continue for miles. This didn't stop Mr. Alexander from completing over 300 competitions world-wide, privileging him with a lake named in his honor: Tridave Lake. Room 401 has now been given the name Tridave Chemistry Lab in Mr. and Mrs. Alexander's honor.
The Biology Lab was made possible through several more donations. Big thanks to Bob and Sarah Colton, Jerry W. Brock Foundation, Community Investment Donors, The TPA Foundation, the TPA Parent Organization, Kevin and Kerry Camberg, Greg and Shelly Collins, Dr. Timothy and Dr. Rebecca Burgin, On Semiconductor, and Fulton Homes.
After purchasing several cabinets, sinks, and countertops, finally the two-month installation process began. But even that wouldn't be possible without the many amazing contributors: Mr. Mike Ternyik, Mr. Mitch Sweet, Mr. Mike Wiese, Louis Ternyik, Getamesey Wiese, Anthony Swingle, and our facilities director Mr. Dale Ashton. Amazingly enough, just the cabinets themselves delivered for the two rooms weighed over 2,600 pounds! "Mr. Sweet, Mr. Ashton, and I had to move them piece by piece into room 406 until they were ready to be installed," says Dr. Porter.
In the end, the project was a great success. Not only do the rooms look amazing, but they function as actual labs, now equipped with plumbing, gas, and updated air conditioning. "The completion of these two labs is a significant investment into the lives of Tempe Prep students," says Dr. Porter. "These labs will not only affect this year's chemistry and biology students, but it will continue to affect all future TPA students as well."
Another huge thanks to everyone who put their heart into this astonishing accomplishment whether giving of time or money. It is because of these amazing people that the students of TPA can have the best learning experience possible.
Share
About Author
(0) Readers Comments