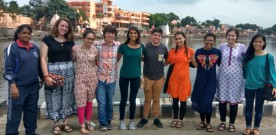 By Rachel Dinh
It finally hit me that I was in India when I had my first dinner with my host family. I had stared at the plate, puzzling over if I should use my hand or the utensils to eat what I later found out to be sabzi, chopatti, and daal. It might not seem like a big deal, but with all of my family members' expectant eyes on me and memories of countless NSLI-Y (National Security Language Initiative for Youth) orientations about being a good ambassador for the U.S, it was definitely a stressful situation. I ended up asking my host parents how to eat and they laughingly showed me how.
India was like a completely different world. The traffic was a chaotic mix of motorcycles, bikes, cars, and buses all using the same lane and blowing their horns. There were temples, mosques, and other places of worship everywhere to accommodate the dozens of different religions in India. And since I was in Indore, the city of food, I was never far away from some good gulab jamun or samosas.
The other NSLI-Y kids and I studied Hindi at The Shihshukunj International School six out of seven days of the week. We had six teachers who each taught us a different aspect of the language like Devanagari script, vocabulary, grammar etc. We did art classes such as Clay Modeling, Tubla (an instrument that resembles a drum), and Indian Dance. We could also choose from a variety of sports such as table tennis, cricket, badminton, and squash. Whenever we had lunch break, lots of younger kids would come up to us and eagerly ask us questions about America such as the American school system and our favorite Hollywood actors.
A big part of the NSLI-Y experience is living with host families. My host family was incredibly inclusive and gave me a glimpse into their daily lives. My host mom showed me how to make chai tea and always invited me into her room to watch Bollywood movies which, by the way, are fantastic. My host dad cracked so many jokes and taught me Hindi expressions. My host sister and brother asked me countless questions and commented on weird things they thought I did, such as taking night showers. We American students often talked to each other about what we did with our host families and I noticed that as time went on, we started saying "family" instead of "host family."
Summer of 2017 was an incredible experience. Not only did I learn a new language, but I made lifelong friends, and learned about a completely different culture. I am so grateful to NSLI-Y and can't wait to come back to India again!
Share
About Author
(0) Readers Comments