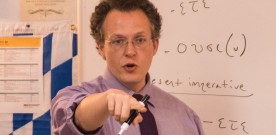 Dr. Riesbeck
By Ashlynne Myrick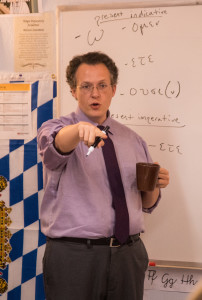 Big welcome to Dr. Riesbeck, Tempe Prep's newest 10th grade Latin/Humane Letters and 11th grade Greek teacher. After growing up in Athens, Ohio, and spending most of his career in Houston, Texas, he is finally here in Tempe, Arizona, ready to make a difference.
As a kid, Dr, Riesbeck explains that he "was a very mediocre student who didn't put a lot of effort or time or focus into anything until I went to college." However even in college he struggled, describing that "I almost flunked out of college," however later he got serious and "just kept on going."
When asked for advice for students, Dr. Riesbeck responded: "Students should try to take school seriously and give lots of effort in your classes because when you realize you didn't put any work into anything it will be too late. Being lazy was my mistake."
According to Dr. Riesbeck, "TPA is the type of school I wish I could have gone to. It discusses various subjects that I'm glad to teach." He clarifies that he "likes studying and learning a very wide range of things" and that "there's no better way to really learn what you're trying to learn than talking and explaining to other people about it. When you do explain you learn a whole lot.
"But I also discovered after I started teaching that I'm not terrible at it and that it's actually a lot of fun to help people learn. It's enjoyable watching people learn, which makes me enjoy teaching even more."
Moving away from school, Dr. Riesbeck says that a Boston terrier is his spirit animal because "they are the best dogs and I have one."
Thank you, Dr. Riesbeck. See you around the school.
Mrs. Richards
By Clara Moffitt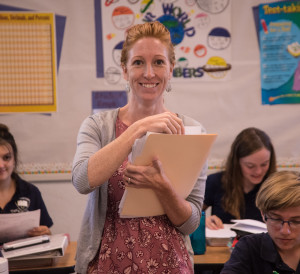 I have never been a huge fan of math, and I have most certainly never requested that my parents buy me an algebra book simply to experience the pure joy that it brings. Well, it is no surprise that TPA has brought another math lover into our midst as a teacher. We really scored getting Mrs. Richards to be our new geometry and pre-calculus teacher.
Unlike some of us, math always came easily to Mrs. Richards. "Math is very rule-based," she says. "Once you have learned the rules, it's all about seeing how you can maneuver within those bounds." Mrs. Richards says what gave her the most joy, however, was teaching her peers a concept.
Mrs. Richards grew up in a small "podunk" town called Kuna, Idaho, and later attended St. John's College in New Mexico, where she later had her first job as a teacher in 2004.
TPA had been on Mrs. Richards' mind for a while before she actually came to teach here. She began to think of Tempe Prep as an option for her children, 5-year-old Andrew and 1-year-old  Benjamin, and began to seriously consider TPA when she moved closer to the campus itself.
In whatever free time she can squeeze in between teaching and having two boys under age 6, Mrs. Richards enjoys sewing and camping. "Sewing is something that my grandmother loved," she says. "Anytime I take out the machine I am reminded of her." Camping is another one of her hobbies because it "reminds me of my childhood. Those idyllic summer days with no responsibilities."
Mrs. Richards actually enjoys coming to school every day and looks forward to "seeing the students and enjoying their mature, thoughtful consideration of the materials we are learning." Her goals for the year mainly include building confidence in her students. She says, "I want all of my students to come away from my classes with a deep understanding of mathematics… to be prepared for any types of math that they might encounter in their futures."
Tempe Prep eagerly awaits more to come from Mrs. Richards, and who knows, maybe you'll find yourself wanting to buy a math textbook to experience the joy of learning.
Mr. Edelbrock
By Jasmyn Genchev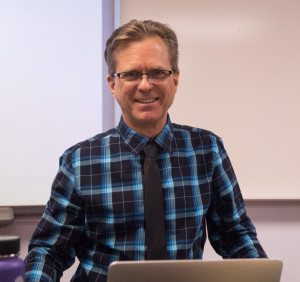 Sometimes life's current takes us in unpredictable ways. This is very much the case for Tempe Prep's newest 11th grade physics teacher, Mr. Edelbrock. Born and raised in Southern California until the age of 12, and later moving with his family to Milwaukee, staying there throughout his high school years, Mr. Edelbrock has finally settled here in Arizona. However, it was really his Southwestern roots that brought him back.
Upon arriving in Arizona, Mr. Edelbrock continued his studies at ASU, eventually achieving his master's in science education. In his opinion, returning to school later in his life gave him a chance to focus on the studies that actually mattered, rather than just having fun.
Like so many others, Mr. Edelbrock admits that he "was [never] a good student in high school," but it was in college that he really began to understand the importance of education. As far as teaching, Mr. Edelbrock claims that he "really just fell into it, I knew some people who were teachers, like my mom, so it seemed like that might be a good avenue to go down."
After retiring from 25 long years working in the Mesa Public Schools, he has now settled at TPA ready for a change. "I like the size of the campus and classes," he says. "It's more of a family atmosphere."
When asked what he finds so fascinating about physics, he responds, "I've always been interested in science. I like to learn about how the universe works [and there] is always something new to learn."
Outside of school, Mr. Edelbrock enjoys spending time in the great outdoors hiking, mountain biking, and fly fishing. He has also traveled, including through Europe, and says he "would love to do more."
To the students of TPA, Mr. Edelbrock's advice is to "[never] be afraid to take risks. When an opportunity presents itself, go after it! What's the worst thing that could happen?" We can thank Mr. Edelbrock for all he will do for the TPA community but especially for the realization that sometimes it's okay to let the current of life take us down a path we have never expected.
Mr. Hansen
By Katherine Camberg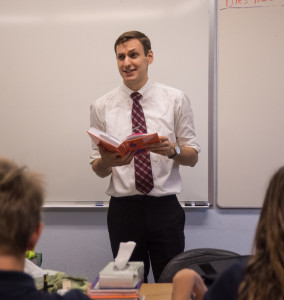 Welcome to one of TPA's newest faculty members – Mr. Hansen. Mr. Hansen moved here from Wisconsin just two weeks before school started to take a job at TPA. He found TPA appealing because he would have the opportunity to teach both history and Latin, an opportunity not available at many other schools. He also liked the small-school environment and found it more personal.
Mr. Hansen teaches 9th grade humane letters, and 8th and 9th grade Latin. He says what he enjoys most about teaching Latin is that translating is like solving a puzzle. In Humane Letters, he likes that he can go off on tangents about topics he is passionate about.
Before coming to TPA, Mr. Hansen taught history and classics at the University of Wisconsin Madison for four years. He got his bachelor's in history at the University of Wisconsin Eau Claire and his master's in ancient history and classics at the University of Wisconsin Madison.
Outside of teaching, he enjoys watching documentaries, playing volleyball, and strategy board games.
Share
About Author
(0) Readers Comments