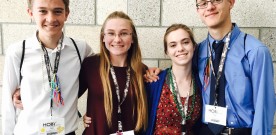 By Maya Kostov
Ever thought about how to be a good leader and develop leadership skills? Well, Peter Surin, Abbi Harb, Charlotte McIntosh, and Alex Wait, all sophomores, were all selected by Mrs. Moffitt to have the opportunity to participate in the Hugh O'Brien Youth Leadership Program. The named originated from Hugh O'Brien who went on a mission trip and when he returned asked himself, "What are you going to do with this?" So, he founded HOBY so the Youth of the world could become stronger leaders to help each other. The official goal of HOBY is to train and empower young leaders by granting them leadership skills and encouraging them to benefit their community.
​HOBY is a four-day course on leadership. Peter Surin says, "I experienced many wonderful presentations from which I gained many wonderful notes that I'll be referencing in the future. I also heard from many experienced leaders with quite valuable advice." The program also offers information on community, support, and personal advice. The participants are put in small groups and interact with each other, as well as listen to motivational speakers who talk about the elements of HOBY.
Abbi Harb said, " We were all in groups of about 10 and participated in a service project, visiting the Capitol, working in teams to complete various tasks, hearing guest speakers, having dance parties and being energetic."
HOBY is not only focused on skills, but also focuses on interaction and making friends with people. Abbi also says, "It was amazing to be around about 400 others who shared my love for service. Throughout the weekend I met so many new people and made lots of friends who I still talk to!"
These delegates also learned many things and gained many valuable life skills. Peter says, "I also greatly enjoyed becoming acquainted with my peers at the seminar and met many people that I enjoyed listening to and conversing with, including one in particular with whom I still keep in contact." Looks like this program can really help you make some long-lasting friendships.
Alex Wait said the program has given him many new ideas for the future. Abbi states that, "HOBY has taught me that if I want to do something, I shouldn't wait for it to happen, I should take initiative and work for it. It taught me to never doubt myself and think I'm too young because you are never too young to make a difference. HOBY taught me to set SMART goals: Specific, Measurable, Attainable, Relevant, and Time-based goals which by using them, little by little, a large goal can be achieved."
It really seems like these students are getting a good grasp on basic life skills and how to succeed in life.  Peter also mentions that," I was very much an observer. I listened to many presentations and leader questionnaires to learn and understand how to be a successful leader. I participated in group activities with my peers in my group of 'leaders' at the seminar."
This program is a very good way to interact with students outside of school all while getting amazing skills that you can actually use and apply at TPA.
They didn't just sit and listen to people talk for four days, they got to explore and see where you can use these skills. The HOBY participants got to visit the Arizona House of Representatives and Senate, where they got to sit in the seats of the representatives and have a debate like real politicians as well as doing a volunteer service project where they got to clean up Papago Park in Phoenix. They also had a job fair, but it was for different organizations that you could volunteer with. As Abbi Harb so cleverly stated, "I HAVE/ DO/ WILL ENCOURAGE EVERY INCOMING JUNIOR TO PARTICIPATE IN HOBY. HOBY really does change lives leading to you changing others' lives."
Share
About Author
(0) Readers Comments