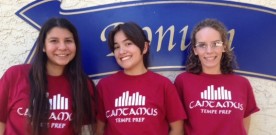 By Rachel Dinh
Every year, the fall season brings wonderful things: cool weather, colorful leaves, pumpkin spice lattes, and of course, college fly-in programs! These programs are meant to give outstanding students the opportunity to see important aspects of a college that can't be seen through a website.
These programs are about 2-3 days long and often the college or university will pay for your airfare to and from their campus. Most colleges and even Ivy League schools offer these scholarships to students who show interest and aptitude through their applications.
Three Tempe Prep seniors have already received scholarships for these fly-ins. Jovanna Gonzalez will be visiting Lehigh University in Pennsylvania. Jovanna's interest in chemical engineering led her to choose Lehigh because of its great engineering department. As for the college visit itself, Jovanna says, "I think that it prepares students for college because they get to follow a student around and get the college feel. I would like to know exactly how the campus, dorms, and environment are before committing." She also recommends these programs to other students in the future: "I think it's a great opportunity for seniors to go visit potential colleges that they want to attend. There is a chance to talk to the administration and find out exactly what they are looking for in essays, which can be applied to all college essays."
Emma Moriarty was accepted into Mt. Holyoke, an all-women's college in Massachusetts. She chose Mt. Holyoke because she knows a few alumni and she was interested in seeing how an all-women's college is different from a coed one. She says, "Even though a lot of colleges have good academics, you don't know what they're really like." Her advice to other students is: "Be prepared to be let down. I applied to five fly-ins and only got one. It's a good prerequisite to college apps because you see what the process is like."
Francesca Lily was accepted for the fly-in to Smith College, also an all-women's college in Massachusetts. She won't be able to attend due to a conflict, but she says, "I would still encourage people to apply for fly-ins because they're a really great way to do the whole college visit thing (one of my largest expenses for my summer camp was in travel, so if this was also paid for that would've been nice) and it's a good excuse to get out of town and into Boston for a weekend."
These seniors have put lots of effort into their applications and are sure to get a rewarding experience at their college visits. If this sounds interesting to you, it's not too late to apply!
Share
About Author
(0) Readers Comments