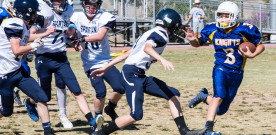 By Hayden Sampson
No middle school Tempe Prep football team has ever done what this year's team has. With only three 8th graders returning from last year, the team has gone 4-0 without skipping a beat.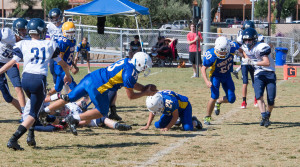 With new players from all grades, the team has pushed through with not only an amazing record, but with their eyes on the championship. In the game against Veritas Prep, 8th grade quarterback Gabe Brittain ran for three touchdowns with Dallin Kartchner forcing and recovering two fumbles.
However, the real story comes with how well our Knights have learned to play as a team with so many new players. Head Coach Kartchner, when asked how the team has learned to mesh, says, "We are doing really well. We've got new 8th graders, new 7th graders, and of course new 6th graders, and we are all doing great. They're meshing pretty well as a group, and we've got great leadership from the 8th graders."
In football, leadership is a key component, and this year the team seems to have a lot of it. Gabe Brittain, one of the returning 8th graders as well as one of these leaders, says, "With so many new kids it can be tough, but we have learned to be positive and take on the leadership role."
With a few great games behind them, and with high hopes for the season ahead, our Tempe Prep Knights are ready for anything.
Share
About Author
(0) Readers Comments