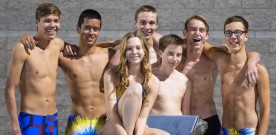 By Nolan Bailey
Let me start off by saying great job to our TPA swimmers. "We had an amazing season" says Head Coach Jenn Stephens, and they certainly did. The junior high girls team finished first place in their championship meet in the biggest middle school league in the state.
Special congratulations go out to Lily Cozens, who was named Canyon Athletic Association Girls Swimmer of the Year. The boys were also impressive as runner up in their championship meet.
The middle school swimmers are not the only ones making waves. The high school team had seven state qualifiers and finished 14th overall. Adding on to last year's record-setting season, each swimmer strived to be their best and they had a great season. Coach says, "Every single swimmer who participated swam personal best times at the end of the season."
Unlike other teams, TPA does not have many experienced club swimmers, but that doesn't stop them. "They continued to make a showing at the high school state meet," Coach Stephens said. She also said that "We have a group of accomplished athletes that come to practice who are not afraid to work hard."
These swimmers are clearly a group of dedicated athletes who worked to get better. We are proud of our swimming Knights!
High School Results:
Scores – Men – Team Rankings – Through Event 124
1. Seton Catholic High School 279.5
2. Phoenix Country Day High School 264
3. Saguaro High School 185.5
4. Mingus High School 139
5. Arizona College Prep High School 136
6. Northland Prep Academy High School 127.5
7. Pusch Ridge Christian Academy 113
8. Gilbert Christian High School 112
9. Arete Prep High School 109
10. Veritas Prep High School 98
11. The Gregory School High School 91
12. Cactus High School 77.5
13. Sabino High School 63
14. Chandler Prep High School 62
14. Tempe Prep High School 62
16. American Leadership Academy High 57
17. Casteel High School 47
18. Scottsdale Preparatory Academy 33
19. San Manuel High School 28
20. Red Rock High School 27
21. Estrella Foothills High School 26
21. Kingman Academy High School 26
Share
About Author
(0) Readers Comments