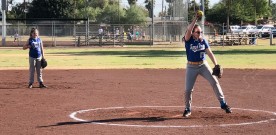 By Taylor Conley
The middle school softball team had their first game on Dec. 2. They had a 12-10 loss against Lincoln Prep. Our team took the lead in the last inning with only eight players!
Coach Goodykoontz said, "Many of these girls had never played before, but they went out and gave a tremendous effort. If they were nervous, they didn't show it. This was a really encouraging start to the season."
Mr. Goodykoontz is a devoted TPA parent who works for The Arizona Republic. This means he gets to interview celebrities like Emma Stone and Harrison Ford, and we got to interview him! He'd also like to thank Coach Rob who made the game possible. Coach Goodykoontz also said, "The effort was just fantastic. Coaches say things like this all the time, but in this case it is 100 percent true: Every single player contributed today. I can prove it."
Lilly Zienkewicz, a new player and outfielder on the team, said "We do drills in the beginning of practice, then work on hitting balls and catching balls. My goal this season is to make a home run."
The team was aggressive at the plate and had great effort. This team has lots of potential to improve throughout the season.
Share
About Author
(0) Readers Comments