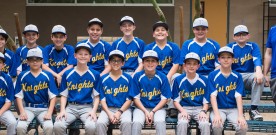 By Nolan Bailey
This year is a special one for middle school baseball as we welcome a new coach to the TPA family, Coach Justin Prost. Coach Prost is new to coaching this year and has decided to take a more academic approach. "My academic training and background compelled me to purchase and read a number of books on coaching youth baseball."
With research and advice he is working to lead the middle school Knights to a season of self-improvement and skill advancement.
Already results are starting to show. As Coach Prost said, "The team has shown improvement in multiple areas since the beginning of the season." He also said that, "Collectively, the team has shown improvement in working and communicating and has become more supportive and unified." Keep up the good work.
Even though there is still room to improve, he said, "Learning to absorb those struggles and use them to improve is important for long term success with the game."
Clearly this is a group of hard working student athletes who strive to win. Coach Prost said, "We are young, but hungry and working hard." As Coach Prost said, these kids are improving quickly and he believes it will bring success this season. Good luck Knights!
Share
About Author
(0) Readers Comments